Pick up a BlackBerry PlayBook tablet, brand new, for just $120
11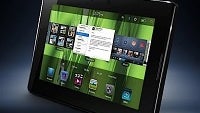 While the PlayBook is not part of BlackBerry's current line-up, the tablet itself was not all bad. By today's standards, the specifications do not stand out, but the BlackBerry Tablet OS ran smooth with the dual-core 1GHz CPU.
When it was first released,
we were fond of the overall performance
of the tablet, but BlackBerry (then Research in Motion) ultimately released a half-baked product lacking the basics like and email client and calendar.
The browser on the
BlackBerry PlayBook
was a bright spot however, and the tablet itself is well built. The gesture driven user interface is easy to use and the size of the package is easy to handle. While it was expensive given its feature set at the time, the PlayBook can be found at a bargain today.
You can pick up a brand-new, retail sealed, 16GB BlackBerry Playbook for only $120. If you prefer the 32GB flavor, it can be had for just $156. Both prices are sharp discounts from the original retail cost. While a defunct product in the current scheme of things, it may offer some niceties to those looking for a bargain. See the source links for more details, the deal is only good for today.
source: Daily Steals (
1
,
2
)