OnePlus will unveil the OnePlus 6T a day early; Apple is to blame
22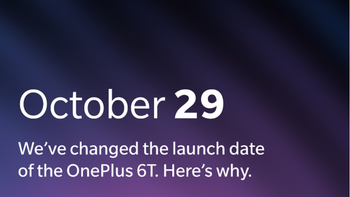 A few weeks ago, on October 8, OnePlus officially confirmed that it would be holding a press event
on October 30
to announce the OnePlus 6T. But yesterday, in a move that OnePlus seemingly didn't expect, Apple began
sending out invites
to an event that is set to be held on the exact same date.

In a message posted on its official forums a short while ago, OnePlus announced that it would be bringing its OnePlus 6T event forward by one day, to October 29. The company admitted that it has spent hours speaking to press contacts across the globe in order to gain insight into how Apple's event could affect its own announcement. Moreover, OnePlus also confirmed that it had spoken to some of its most loyal users.
Ultimately,
the company
said that these people all provided "considered, honest and thoughtful feedback" which led them to believe its own event would be overshadowed significantly by Apple's new products, which are expected to include an
updated iPad Pro
series and an Apple Pencil 2, among other things. OnePlus went on to state that, while it has built up one of the most passionate communities in the tech industry, it has to remain realistic, which is why it has chosen to change the event date.

Although this was likely a tough decision for the company to make considering the number of plans that this change could disrupt, it's ultimately the right one for the brand. After all, OnePlus can now guarantee itself a full day in the spotlight, rather than just a few hours.