One analytics company calls phablets a fad while another group call on Nokia to enter the ring
14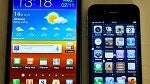 When you consider that the 5-inch-plus segment seems to be on fire right now, especially Samsung's
Galaxy Note II
, a report from mobile analytics company Flurry, suggesting that phablets are a "fab" almost seems out of place.
Then consider the notion that market analysts are suggesting that Nokia's absence from the phablet segment threatens the venerable Finnish company's return to greatness.
We will start with the latter of the two issues. Francisco Jeronimo, an analyst with IDC sees the current trend with 5-inch devices as being an event that Nokia cannot be overlooked and that missing out on the segment completely poses a problem to the company's measured rebound so far. Jeronimo believes Nokia is working on a larger device even though the company has not confirmed one way or the other.
When citing the sales of these phablets though, the Galaxy Note II, the
Huawei Ascend Mate
or the
ZTE Grand Memo
, Jeronimo is missing the forest for the trees. Samsung and Apple will each sell hundreds of millions of handsets this year, and the majority of those
will not
be a Note II or iPad mini. Nokia's flagship
Lumia 920
with a 4.5-inch display is in a sweet spot size-wise and other hot selling devices like the
iPhone 5
or the highly anticipated
HTC One
do not venture into phablet territory either. We would also be remiss in not mentioning the fact that the ultra-popular Samsung
Galaxy S III
is also not a phablet. Nokia's current vacancy in the tablet department may pose a similar challenge.
While that notion sinks in, consider a report from Flurry. Titled,
Size Matters for Connected. Phablets Don't
, the first point of the report states plainly that "phablets are a fad." Flurry broke down screen size segments in their analysis as follows:
Small phones have a screen size of 3.5-inches or less (this was made up of mostly BlackBerry devices)
Medium phones are between 3.5 and 4.9-inches (iPhone, SGS III)
Phablets have screens between 5.0 and 6.9-inches
Small tablets are 7.0 and 8.4-inches
Full-sized tablets have 8.5-inch or larger screens
Now that we have that out of the way, Flurry focused on the top 200 device models (out of 2,000) detected over the past 30 days. Based on the analytics and development work Flurry does, the company estimates this represents about 80% of all usage.
Medium devices have the lion's share of activity in terms of device type and active user. Phablets are less than half of everything else, including full sized tablets. When examined by operating system, the Android platform follows nearly the same pattern when phablets are compared to other handsets. Still, medium devices rule the roost.
Then you would think that phablets are making a showing when it comes to books or video right? Not the case, as phablet share remains in the 2-3% range. Data like this will be of particular interest to developers who must consider how much effort they put into their finished product, and for which user base.
Does this constitute a true "fad" for phablets? It may not matter. Even if phablets earn a mainstay share in the overall user base, it stands to reason that the majority of people, even if they find them useful, will not want to hold a dinner plate next to their head when on a call or not have the ability to easily pocket or holster their device. However, in emerging markets, phablets may find widespread appeal for those that cannot afford to buy a smartphone and tablet.
It will be interesting to see if Flurry adjusts its definitions in the future with the pending release of the
Samsung Galaxy S4
with its 5-inch display and the expectation that sales for that device are going to be white-hot.
Surely this will bring out a lively discussion. Do you think phablets are a fad? Or are they a niche that will find a solid, reliable market for the long run?
sources:
Bloomberg
,
PCMag.com
and
Flurry
Recommended Stories