Official Nexus wall charger hits the Play Store
9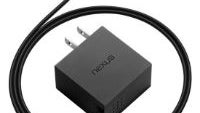 Google has been getting much better when it comes to offering up accessories for its Nexus hardware in the Google Play Store. There still tends to be an odd delay when it comes to the release of the accessories compared to the actual devices, but the accessories are building up. The newest addition to the Nexus ecosystem in the Play Store is an official wall charger.
There isn't a whole lot that is special about the Nexus charger, but it does have some interesting things about it. First off, it is compatible with the Nexus 4, 5, 10, and both models of Nexus 7. Second, it offers 9 watts of charging power, which should mean a bit faster charging times on the phones. It is unclear if it would change the times for the tablets, since the OG Nexus 7 shipped with a 10W charger. Third, unlike many wall chargers, it isn't a combo of a brick and a USB cable, it is one single unit. This means if the cable breaks, you need to replace the whole thing.
Also, it should be noted that there is a fair chance that this is the same brick charger that comes with the
Nexus Wireless Charger
. Of course, the Wireless Charger would cost you $50, whereas this cord alone is only $15 plus shipping, so there is a solid difference in price.