The most well-equipped powerbank? OUTXE Savage Rugged Charger hands-on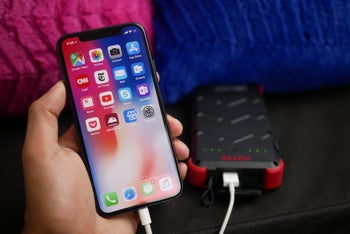 Durability is important. While the sacrifices made in the name of form versus function often leave us more vulnerable than we'd like when it comes to our mobile devices, we thankfully don't have to make such trade-offs with our portable chargers, that is, if we don't want to. Portable chargers, especially those packing upwards of 10,000 mAh's of charge, are already pretty bulky devices, so why not toughen them up properly? That's the approach that OUTXE takes with its 20,000-mAh Savage Solar Charger. This portable charging powerbank offers QuickCharge for your devices, charges itself in under 6 hours, is IP67 water-resistant, has been fortified with tough plastic and thick rubberized corners, and has the ability to recharge itself from the good ol' natural sun via solar-panel. As if all that isn't enough to pique your interest, this powerbank retails for only $55. So, naturally, we had to plug in and see if this charger is all that it strives to be.
Design
Functionality
Conclusion
The Savage Solar Charger seems to pack versatility in a variety of ways. Not only is it ruggedized and tweaked for the outdoor lifestyle, but the internals are geared towards charging a range of devices and doing so quickly. To top it all off, this powerbank takes a page out of its own book and facilitates a pretty speedy recharge for itself, clocking in at 6 hours for 20,000 mAh. Selling for only $55, it's hard to see why anyone in the market for a large-capacity portable charger wouldn't choose the one that charges quick, juices other devices quicker, and can survive a drop in water or on the ground. Oh, and it solar charges too! Pretty sweet deal for under $60.