Nuu MiniKey for Apple iPhone 4 adds physical QWERTY and bulk to your phone
5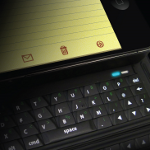 Perhaps the biggest thing that stops people from buying the Apple iPhone 4 is the lack of a physical QWERTY keyboard. If that is what is holding you back from buying the handset, you can go ahead and check out the Nuu MiniKey QWERTY keyboard for Apple's touchscreen device. The product has not yet been launched, but could grab a big following if the keyboard gets high marks at the CES in Las Vegas in 2 weeks.
The accessory provides a landscape oriented keyboard for the Apple iPhone 4 and has a switch that allows you to switch back and forth between the physical QWERTY and the on-screen virtual one. According to the manufacturer's web site, the keys are back-lit which means you should have no trouble typing in the dark. The keyboard is battery powered with standby of 36 hours and charges via a MicroUSB port.
The process of adding the Nuu MiniKey to your Apple iPhone 4 is a snap. You simply slide your handset into the case and slide out the keyboard when you are ready to type. To remove it, you just slide the phone out of the case. One drawback to the product is that it more than doubles the size of the phone when the unit is inside the case. The additional bulk could be a deal breaker for some, no matter how well you can type on the keyboard.
The price of the Nuu MiniKey is expected to be $70 once launched, which might not be too much to pay if lack of a physical keyboard is the one thing holding you back from being an Apple iPhone 4 owner.
source:
Nuubrand
via
Engadget