Number of teens driving while talking on their phone has doubled since 2010
1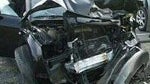 Despite high profile campaigns by carriers like AT&T, the NHTSA says that at any given moment,
660,000 people
are driving while talking on their handset. Since 2010, the number of young people observed to be driving and conversing on their mobile phone has doubled to 2 out of 5. According to the same agency, in 2011 3,331 people were killed in auto accidents involving a distracted driver. That was up from the prior year's 3,267. Of those 3,331 who died in 2011, 12% were using a mobile phone and over half of the drivers were in the 15-29 year old demographic.
The L.A. Times points out that 39 states have enacted a law of some type that prohibits drivers from sending or receiving a text or even a phone call while driving. But as the paper points out, there is no proof that these laws have reduced the number of distracted drivers on the road. One the other hand, in 2011 the number of people injured in a crash that involved a distracted driver dropped to 387,000 from 416,000 in 2010. According to the official government website distraction.gov, you're
23 times
more likely to crash if you are texting while driving.
source:
Distraction.gov
via
arstechnica