North American consumer purchase intentions put iPhone just ahead of Android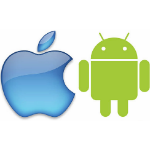 Right off the bat, we'd like to put out that we're not fully sold on surveys like this. Asking someone what they intend to purchase doesn't always match up with what they end up buying. If you asked us what car we intend to buy within the next year, we may say that we intend to buy a Tesla Model S, but a lot can change over the course of that year. So, we take customer purchase intentions with a grain of salt, and a new survey of North America shows that slightly more people want an iPhone than Android.
We're not convinced that surveys like this have much value though, and it's mostly based on the timeline of the survey. Asking someone whether they intend to buy something within the span of a year opens it up to a lot of "well, I should have the money for this by..." type of thinking. Shorter timelines are much more believable because they weed out the people who haven't done any research at all, and focus only on those who are ready to buy. If you asked us what car we intend to buy within the next 3 to 6 months, and we said the Tesla, you'd be more likely to believe it. So, you can take the numbers as you will, but we're not going to change our worldview because of this survey.