Nokia SEC filing reveals all the risks ahead
10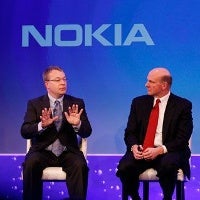 Nokia's latest filing with the US Securities and Exchange Commission (SEC) is a huge document with a lot of boring numbers, but there's a couple of interesting things you can take from it. Nokia gives away all the risks coming with its transition to Windows Phone and gives some
"forward-looking statements"
for the future.
The biggest hurdle Nokia faces?
"Global ecosystems around the Apple and Android platforms have increased the competitive barriers to additional entrants looking to build a competing global smartphone ecosystem, such as Nokia with the Windows Phone platform," the company admits.
Windows Phone is slow to catch up - Microsoft's mobile platforms (including the dated Windows Mobile) have only been declining in the last couple of months and are struggling to get traction. Nokia, for once, has sold a not-too-impressive just over 1 million WP devices in the first three months of availability.
At the same time, Nokia publicly and a bit prematurely deemed its Symbian
"a burning platform"
back in February 2011. No wonder sales of Symbian smartphones declined quicker than the company expected. This is why the Finns now expect to sell
"fewer Symbian devices than previously anticipated."
It seems that the focus will be mostly on lower-end devices, though.
"Lower-priced smartphones with specifications that are different from Symbian's traditional strengths"
are another reason for the decline of Nokia's own OS.
What we like and dislike about this report at the same time is its frankness. Nokia openly doubts parts of its Windows Phone adoption plan. In the report you can read lines like
"consumers may be reluctant to provide personal data to us as a result of our partnership with Microsoft."
Such an openness however at least shows that the company is realistic about its prospects, something that other companies like RIM for instance don't publicly admit.
Most recently,
Standard & Poor's downgraded Nokia's credit score
to BBB- with negative outlook. Still, it's clear that we're in the early days of Windows Phone, and with Windows Phone 8 the horizon could widen for both the platform and the company. Here's to hoping.