Nokia 803 might sport the biggest, baddest cameraphone sensor yet, still loyal to Nokia Belle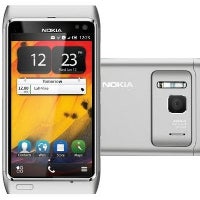 upcoming Nokia N8 successor
, the juicy rumor was that it will feature optical zoom, something that is yet a territory to conquer with cameraphones. Then it received a codename -
Nokia 803
- the render you see on the right, plus the add-ons were that it will
still run Symbian
, the latest iteration of which is called now Nokia Belle, and sport a 3.5" WVGA display, 1GHz processor and 512MB of RAM.
We had
Nokia's camera guru Damian Dinning
the other day hinting that the next best cameraphone in the world "
will have a Nokia logo on it, just like the current one :)
"
, and now the last rumor brings some clarity into what he meant. Insiders got the latest scoop on the Nokia 803, and it is said to arrive some time in May with one of the biggest phone camera sensors yet, a 4" AMOLED display, and the Nokia Belle OS got reconfirmed. HDMI-out, microSIM and NFC round up the rest of the specs in the current rumor.
If you remember, back in November someone crashed a Nokia developers event in Mexico by taking the spy shot of the slideshow you see on the left. It is
listing the upcoming Nokia Carla and Donna updates to Nokia Belle
, with Donna said to support dual-core processors, and be precisely what will be loaded on the 803. Sure, we need decent 1080p video recording now if we are to keep up with the Joneses.
So if at CES Nokia was banging the drum about its Windows Phone flagship, the Lumia 900, now at the MWC expo Nokia Belle might take centerstage, and a Nokia N8 successor is sure to bring back some positive attention to the overhauled mobile OS. Shutterbugs worldwide are already salivating at the thought of what Nokia might have done with the new sensor, if all these rumors materialize.
recently leaked Nokia 801
with 4" AMOLED, said to sport a 12MP camera and the trendy pillow shape of Nokia's latest high-ends - who knows, it might be just the polycarbonate body version of the N8 with souped-up specs, we should hear about both pretty soon.
So, to sum it up, at best we might have a Nokia Donna-running, optical zoom-touting, 4" AMOLED-sporting dual-core Nokia with WVGA resolution, and at worst we get an improved camera sensor over the Nokia N8. Not too shabby, and we are waiting with bated breath for Nokia's MWC announcements.