New gaming device to compete with Nokia's N-Gage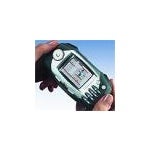 TTPCom demonstrated their console-style games player as well as a fully-featured mobile phone at 3GSM World Congress. Code named B'ngo, it is equipped with both Bluetooth™ and GPRS; the former allowing interactive multi-player games, up to a maximum of 8 people, in close proximity, whilst the latter allows larger gaming communities spread across the entire network. B'ngo has a large color screen and four dedicated game keys plus a novel rotating key for speed of movement. For console style games B'ngo utilizes TTPCom's Wireless Graphics Engine (WGE). WGE software offers a particularly exciting game playing experience because it enables the use of simultaneous key presses in which the user can move and shoot at the same time – a facility not generally available today on other mobile gaming phones.
B'ngo is equipped with full mobile phone functionality including tri-band operation for usability throughout the world, an embedded digital camera, multimedia messaging service (MMS), GPRS class 10, polyphonic ringtones and predictive text entry.

Design Specification - Key Features:
B'ngo is a fully scalable platform for the development of differentiated products from entry level to high end. B'ngo sets a benchmark for other mobile games players to follow and includes:
• Color backlit LCD (TFT 176*220 pixel, 16 bit color depth, more than 65k colours)
• GPRS Multislot Class 10. Class B operation
• Advanced Messaging (SMS, EMS and MMS)
• Integral Digital Still Camera (DSC)
• Triband (900MHz/1800Mhz/1900MHz)
• Downloadable ringing tunes, graphics and games
• Wireless Graphics Engine (WGE) software
• 6 Embedded high-quality multi-player color games
• Compatible with C++ and Java games (Java in high-end product)
• Novel entry key that can rotate in both directions to improve navigation through the user interface and enhance the gaming experience
• Digital Rights Management (DRM) software to protect gaming and musical content
• Bluetooth™
• WAP 2.0 Browser
• Predictive Text Entry T9™
• Polyphonic Ringer for Midi ringtones
• Selectable screen-savers and screen wallpaper