New Samsung infographic shows all the colors of the company's mobile phones
6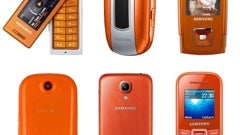 Samsung recently posted an interesting infographic that lets us take a look at what seem to be all the colors that the company has used over the years on its mobile phones and smartphones. Being the world's largest phone maker, Samsung appears to have used every possible color to dress its phones in. That's why the infographic is huge.
As you'll notice, colors like brown, silver and others aren't mentioned, but that's just because handsets dressed in these colors are included in other (similar) categories. The main color categories that Samsung is presenting are: yellow, gold, orange, green, blue, red, purple, pink, white, and black.
You can (and should) zoom in on the images below to see every Samsung handset in detail. There are over 100 of them, from feature phones released in the last decade, to current high-end smartphones like the Galaxy Note 4 and Galaxy S6.
Do you have a favorite color that Samsung has used, or is using on its smartphones? Let us know in the comments section.
source:
Samsung Tomorrow