New Moto X launches in India for Rs. 31,999
23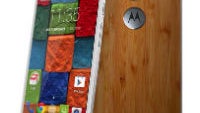 During this past year, one of Motorola's biggest success stories has been in India. In just five months, Motorola sold 1 million devices in the country and vaulted itself into the top 5 smartphone manufacturers in terms of market share for the region. Of course, that success was due to the release of the Moto G, and now Motorola is trying to tap the high-end market in the country with the new Moto X.
The 2014 Moto X has yet to be released into stores here in the U.S., but it will go on sale tonight at midnight in India (which is in less than 3 hours). Motorola will offer the phone through Flipkart, and while Moto Maker is not an option for India, customers will still have a choice of black plastic, bamboo, and leather backings.
The hurdle for Motorola may be with the price point though. India tends to be a region that skews towards the low-end, but Motorola will be selling the Moto X for Rs. 31,999, which converts to about $500. The company has solid name recognition and good will from consumers, so it will be interesting to see how this goes.