New Moto X ads star comedian TJ Miller as your Lazy Phone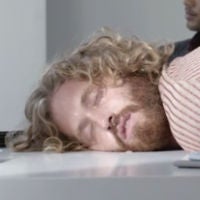 We really hope that between the T-Mobile commercials starring SNL's Bill Hader, and now these new Moto X commercials starring TJ Miller that comedians are going to be finding their way into more mobile advertising, because it would certainly be more interesting than what we've been seeing. Motorola has released three new ads featuring TJ as your Lazy Phone in order to show off the big features of the Moto X.
You may not know TJ if you're not a stand-up comedy fan, but he is a pretty funny guy when let off the chains. Unfortunately, the character of a Lazy Phone doesn't really give him much leeway. Still, they are pretty amusing in showing how much easier things can be when using the Moto X's Touchless Control, Active Display, and Quick Capture features.
Of course, it's a bit of an exaggeration, but still amusing. What do you guys think?