New Apple iPad 2 ad is out; Foxconn to move some iPad production to Brazil by September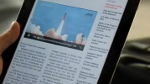 According to
Globo
, Brazil's Minister of Science and Technology, Aloízio Mercadante, says that Foxconn will be
starting production
of the Apple iPad 2 in his country starting in September. Originally, production of the tablet was to have begun in July, but the date has been pushed back because of problems with construction of a facility and a lack of
skilled labor
. Foxconn sent 175 enginners to China for training, but needs to hire more than 200 before starting production of the device in Brazil.
Foxconn is also waiting for approval from the city of city of Jundiaí, where the plant is located. The city said it is accelerating the process to get the green light to start the factory humming. Minister Mercadante says that a locally produced Apple iPad 2will cost
40% less
than the imported version for Brazilians, thanks to a
onerous
import tax in the country. By the time the factory is running at full capacity in 3 or 4 years, it will be producing
6 million
iPads annually and bring
4,000
to
5,000
new jobs to Brazil.
In other news featuring Apple's tablet, the company's latest commercial for the device is now up on YouTube. Called "
Now
", the ad shows off a little word play. "
Now, we can watch a newspaper... hold an entire bookstore...touch the stars, watch a phone call
," says the voice over announcer. Besides appearing on the video sharing site, the ad is also up on Apple's own web site and should soon be seen on your television screen.
source:
Globo
(Translated),
AppleInsider