Nest releases new color options for Learning Thermostat; launches outdoor security camera in the US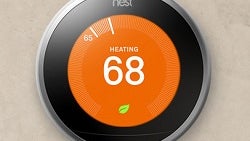 The idea of turning your house or apartment into a smart home is certainly an intriguing venture. With so many different accessories and gadgets out there that allow your home to be more connected than ever, it can often be difficult to figure out just where you should start. One of the oldest and most recognizable smart home accessories is easily that of the Nest Learning Thermostat. Nest first launched their smart thermostat back in October of 2011, and have updated it twice since it was first conceived.While we've gotten new features time and time again, the overall look of the Learning Thermostat has remained mostly unchanged. More importantly, that same stainless steel design has remained as the only color option we've had available to us. Thankfully, Nest is changing that today.
Starting now, the Nest Learning Thermostat comes in three new color options - white, copper, and black. The white is a more subtle change, the black turns the thermostat into a stealth king, and the copper is easily the flashiest option that we now have. Stainless steel is still kicking around for those who like its understated look, but if you're a fan of the new color selections, you're going to want to act sooner rather than later. Nest has said that these new color options will only be available for a limited time, but they didn't dive into any detail as to how long that limited time would actually be.
As if that wasn't enough good news, Nest has also made their Cam Outdoor security camera available to purchase in the United States. The Nest Cam Outdoor is a waterproof security camera that keeps an eye on your home 24/7. Everything it captures is recorded, and it will send you an alert to your phone if it detects a person, sound, or other occurrence that takes place. It's definitely one of the most robust outdoor security cameras on the market, and folks in the US should be happy to know that the wait to purchase it is finally over.
The new color options for the Nest Learning Thermostat will cost the same base price of $249, and the Nest Cam Outdoor will set you back $199. Both products can be purchased in the US starting today.