Motorola suggests that Samsung stole its always on display feature
88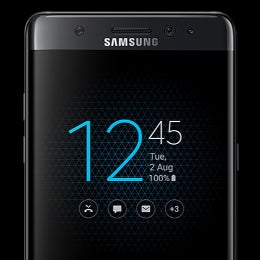 Tomorrow, August 19, Samsung will officially release the
Galaxy Note 7
, thus bringing to market what seems to be one of this year's hottest smartphones. Other handset makers are certainly watching all of Samsung's moves with interest, and some aren't that happy about the Note 7. Take Motorola, for example, which today subtly suggested that one of the features of the Galaxy Note 7, namely the Always On display, has been borrowed from Moto phones.
As you can see for yourself in the Tweet below, Motorola is asking: "In what galaxy is it okay to steal competitor phones' cool features?" The question is followed by a #TheOriginalAlwaysOnDisplay hashtag, plus the image of a
Moto Z
with its always on Moto Display. Clearly, Moto is taking a jab at Samsung and its brand new Galaxy that's about to hit the market. Mind you, this is not Samsung's first handset to have an Always On screen (the S7 and S7 edge were the first), but the feature has been
greatly improved on the Note 7
.
It is true that Motorola made the first Android phone with an always on display, called Active Display at the time: the original
Moto X
from 2013. However, the Moto X was not the world's first smartphone to offer this kind of functionality. Nokia had a similar feature on its MeeGo-based
N9
in 2011, and even on older Symbian handsets that sported AMOLED screens (including the
Nokia N8
). The feature was later enhanced and included on Windows-based Lumia phones under the name
Glance Screen
. Thus, saying that Motorola had
the original always on display
isn't exactly correct.
In what galaxy is it okay to steal competitor phones' cool features? #TheOriginalAlwaysOnDisplay#motozdroidpic.twitter.com/T75byy5bIx

— Moto US (@Moto_USA) August 18, 2016