Mobile Firefox, Fennec, released in alpha form
4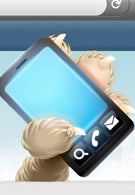 Finally, the mobile version of Firefox, the Fennec, has been released in its alpha form. The early version has been made available to receive feedback from the audience at large, web developers and to also interlock the Mozilla community teams such as testers, add-on developers and so on.
The Fennec alpha is initially available for download for the Nokia
N810
Internet Tablet but if you don't own one and want to test it out, there are also variants for desktops running Windows, Mac OS X and Linux.
Features include:
Support for Add-ons, Extensions, Themes

Tabbed browsing (with thumbnails)
Web search integrated into the URL bar
Popup blocker
Unique interface, hiding controls and URL bar
Download instructions and other features can be viewed by clicking on the source link below.