Microsoft's NewsCast app reads the news to you just like a radio does
2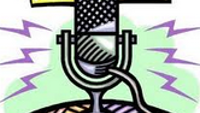 Microsoft is working on a new app called NewsCast that is supposed to give you a more productive commute by reading the news to you over your phone. While available for iOS devices only, at the moment, the app is being tested internally at Redmond, although you can click on the sourcelink and try to download and install the app before Microsoft keeps it hidden away until its launch.
With NewsCast, you can listen to 30 second summaries of the stories you want to hear. Decide if you want to focus on local or world events. Two different voices alternate reading each news item. It almost sounds like the old days when you listened to the news during your daily commute using that technological wonder called...what was it again? Ah, that's right. The radio.
Right now, there are a few things that hopefully will be improved upon by Microsoft before the app launches. As it stands now, there is no way to customize the app, especially when it comes to obtaining and using news sources. Also, the newscasters sound a bit robotic and need to sound more human. One good feature allows you to save a story for later in the day, so that you can hear it when you are offline.
Will NewsCast eventually be offered via the App Store and the Google Play Store? Sounds like a possibility. After all, this sounds like a great app to get you up-to-date during your daily drive to the office, so that you don't sound ignorant during those morning congregations around the water cooler.
source:
MicrosoftOnline
,
Neowin
via
Engadget