Microsoft offers extra SkyDrive storage to students for free
6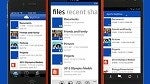 Good news for folks going attending college in the US this year, if you validate your school email address (with a domain of
.edu
) with Microsoft, you will be provided with a redemption code to add an additional 3GB of storage to your SkyDrive account.
SkyDrive already offers more free storage than the other high-profile providers like Google Drive, iCloud, or Dropbox. Pricing for extra storage is aggressive too, with additional storage of 20GB for $10, 50GB for $25 or 100GB for $50 per year.
However, if you are a college student, there is a better than average chance you do not have a ton of extra cash to burn on extraneous things. That also means you need to take care of your investments, like your smartphone and laptop. Doing so means taking advantage of cloud storage solutions to back-up your class work and other assignments in case your hardware is lost, stolen or damaged.
With that in mind, Microsoft, through this promotion, has you covered by increasing free SkyDrive storage to a
total of 10GB
. It is not a bad deal, and the best part is that SkyDrive is available for every major mobile operating system as well as for Apple OS X, Chrome OS and of course Windows. Many popular applications work with SkyDrive too, such as DocuSign, OneNote, Office Web Apps and others.
If you are a student,
click here to enter your

.edu

email address and Microsoft will provide you with your redemption code
. The code must be used by December 31, 2013, is valid for one year from redemption and is only valid in the US.
via:
WPCentral