Microsoft introduces new voice notes software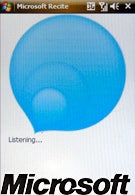 We had a chance to preview a new Microsoft service to be announced tomorrow.
Microsoft Recite
is supposed to be an easy way to remember, search and retrieve notes and reminders. So, for example you can record your new cars tag number: "My new BMW tag is AB 3123". Then a day after, a reckless driver pushed you off the road, so you record their tag number: "This f. tag is YY BB ZZ". After arriving at the police department, you should be able to say: "tag" and Microsoft Recite should play back both notes that contained the word "tag". The system does not utilize word recognition (translation the sound of your voice to words), but rather digitizes the sample voice and looks for the same sound in the previous recordings (so it is not language dependent).
We already tried it, but to be honest, it really does not seem to work at all. Most of the tries it ranked first recordings that did not contain the word we were looking for. Again, this is technology preview version. If you want to download and try it, go to:
http://recite.microsoft.com/Pages/index.aspx
and let us know what your own experience was.