Microsoft denies plans for Surface phone, bashes Android
56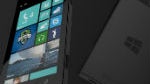 There have been rumors floating around about Microsoft working on its own Windows Phone hardware since last year. But yesterday, Microsoft's corporate vice president of Windows Phone, Terry Myerson, put those rumors to rest by saying that there is no Surface phone in the works in Redmond.
As seems to be a trend in the past couple days, the news comes from the
AllThingsD
: Dive Into Mobile conference in New York. Myerson said that Microsoft doesn't have plans to build its own phone right now, but it isn't out of the question. However, if Microsoft were to go down that path, it would only be to offer something that its partners weren't.
It would have to be something where Nokia or HTC or other primary partners were not providing the consumer experience we think was possible on our platform.
It seems interesting that Myerson directly mentioned Nokia and HTC, but left out Samsung. There have been rumors recently that Samsung is actively tanking its Windows Phone line in favor of its Android and future Tizen offerings.
Myerson went on to do the requisite bashing of Android, saying that the platform is "a mess", and that despite Eric Schmidt's comments to the contrary that people inside of Google are trying to "quash" Facebook Home. It just seems silly for Microsoft to keep up the negative comments about Android. The company should probably wait until Windows Phone has made more of a mark before bashing the market leader.