MetroPCS and Cricket start financing high-end handsets
10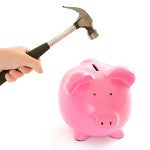 MetroPCS and Cricket have both started to offer customers financing to help them purchase
high-end handsets
like the
Apple iPhone 5
; Neither carrier offers subsidized deals in which a major chunk of the phone is paid for by the carrier and in return the customer signs a two-year contract which locks him into the mobile operator for 24 months. Since both MetroPCS and Cricket don't have customers sign contracts, neither can lock in their customers for any time period which would certainly make subsidizing new phones very risky.
low upfront payments
on otherwise expensive smartphones. MetroPCS is also working with a company called BillFloat and the idea is to let a customer walk away with,say, an Apple iPhone 5 after putting up a small amount of money upfront and paying off the balance in monthly installments. Cricket customers can walk out of the store with an Apple iPhone 5 for
just $105 upfront
. After paying interest and repayment fees, the buyer will end up paying a lot more than the partly subsidized $500 that Cricket also offers the phone for, but BillFloat and Progressive don't require a credit check. The companies take their monthly payments straight from the borrower's bank account.
source:
GIGaom