Meg Whitman expands on the future of WebOS - more tablets?!
10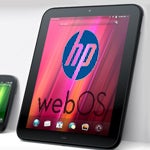 As we reported earlier, after an
all-hands
meeting this morning HP announced it would
open source WebOS
. At the time they stayed mum on the fate of WebOS employees and the potential for future hardware products. Now HP CEO Meg Whitman has conducted a sit-down interview to flesh out HP's goals.
Whitman confirmed that HP hopes to produce more hardware. When pressed she suggested that a return to tablets would probably be their initial foray, although she warned that it would likely be late next year or 2013 before anything was announced. Putting WebOS on printers and even appliances has been mentioned in the past, but apparently those applications will take a back seat for now. Whitman categorically ruled out a return to the smartphone market.
Plans for the WebOS team were also clarified. HP is going to undertake a strategic analysis to determine the best way to manage WebOS; Whitman specifically used the analogy of running the WebOS division like a start-up. Whether managing the open-source WebOS will be done with a Mozilla-like foundation or some other model has not yet been decided. Whitman confirmed that HP would like to keep as much of the WebOS development team together as possible, although she noted that the new vision for WebOS is quite different from the original strategic goals, so some employees may naturally seek other opportunities.
All in all it appears that HP is taking this quite seriously – a refreshing outlook, as open sourcing is sometimes a way for companies to wash their hands of a product. Whitman said HP will be committing significant resources to the ongoing development of WebOS, and will be creating a 4-5 year road map, rather than expecting a miraculous shift in market position in the next year or two.
The future for WebOS is still murky at best, but at least it appears there will be a future. Viva la Palm!
source:
The Verge