Mario and Zelda creator, Shigeru Miyamoto, admits to having a liking to those Angry Birds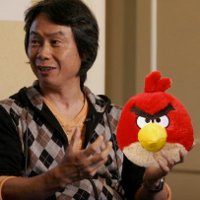 Oh those
Angry Birds
are at it again! Not only have they
amassed such a huge following
, but they've also been shaking up the entire video game industry as well. Seriously, it's unbelievable how such a simplistic game like Angry Birds has been able to become the poster child of mobile gaming – going as far as taking away some luster from traditional mobile console titles.
Much like all of us, Super Mario Brothers and The Legend of Zelda creator, the one and only
Shigeru Miyamoto
, has actually expressed his love for the popular Angry Birds game. In fact, the video gaming pioneer was recently in Paris to promote the launch of the Nintendo 3DS. Of course, the Nintendo legend has been ho-hum in regards to talk surrounding smartphone game, but when he was asked about his favorite non-Nintendo game, he actually gave the surprising remark.
From the sound of it all, Miyamoto expressed his liking for Angry Birds – going on to say some positive stuff about the game and its creator Rovio. Specifically, he says that Rovio is "
having fun developing the game
" and "
inspiring us to try even hard, and create even more unexpected new things
."
As we've clearly seen, smartphone gaming has challenged the way gaming is done on the go – thus, giving some of those traditional console games a good run for their money. Well, it's nice to know that Miyamoto has admitted to liking the addictive gameplay of Angry Birds, but we're curious to see how Nintendo will transform in the future to better adapt to the new competition and challenges facing them.
source:
Edge
via
Engadget