Lonely astronaut simulator Out There gets discounted for Android and iOS planeteers
1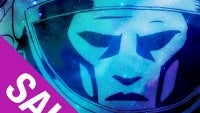 Out There is one of the better mobile games to emerge lately, and a 50% price reduction was pretty much the only thing that could make it even nicer. For a limited time, you can get the melancholic deep space exploration game for $2.50 (1,79 €) on Android and iOS.
Unlike every space game ever, Out There eschews the combat in favor of questing, decision-making, harvesting resources and dealing with the final frontier's harsh living conditions. It's like a game book, only in motion and with striking comic visuals. You pick up the role of an astronaut that wakes up from cryonic sleepy-sleepy in an unknown part of the galaxy.
Being all by yourself, you hop from planet to planet in randomly-generated galaxies, seeking to restock your finite oxygen supply, upgrade your ship and uncover alien mysteries. The game offers over 300 player choices , 3 story endings, 8 different spaceships, a crafting system, learning alien languages, and more. If you are into such solitary experiences, you will probably lose yourself in it.
Download Out There:
Android
|
iOS
($2.50)