Lithium-oxygen batteries can provide five times the capacity of lithium-ion cells
43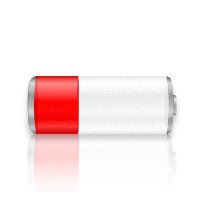 Power users rejoice. A prototype of a new smartphone battery using lithium-oxygen, provides as much as five times the power as the current lithium-ion cells used in today's smartphone units. One of the problems in developing the new battery is that lithium-oxygen is "thermodynmically unstable." That doesn't sound like a phrase you want describing the chemicals that are powering the device in your hand.
But at the U.S. Department of Energy's Argonne National Laboratory, a new discovery has found a way to "produce stable crystallized lithium superoxide (LiO2) instead of lithium peroxide" while the battery discharged. Lithium-superoxide breaks down into lithium and oxygen allowing the battery to be more stable and efficient with a long life-cycle. In addition, the new discovery means that the cell won't be an open system requiring extra oxygen from the environment to be pumped inside. This is another factor making it not only safer and more stable, but also economical.
Despite the new breakthrough, don't expect to see the lithium-oxygen batteries powering up your handset just yet. More research still needs to be done before smartphone users can take advantage of this next wave of powerful batteries.
"This discovery really opens a pathway for the potential development of a new kind of battery. Although a lot more research is needed, the cycle life of the battery is what we were looking for."-Larry Curtiss, battery scientist, Argonne
source:
nature
,
Argonne
via
BGR