Lenovo announces Yoga 11S with Intel CPU and full Windows 8
6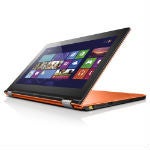 The Lenovo Yoga 13 inch model has been one of the better options for a full touchscreen Windows 8 laptop/tablet hybrid, and there is also an 11 inch model with a Tegra 3 processor and Windows RT, but usually people kind of glaze over when they hear the term "Windows RT". Well, good news! The 11 inch Yoga is getting an upgrade to offer an Intel CPU and full Windows 8. The news came today out of CES, even though CES doesn't technically begin until Tuesday.
The upgrade will be called the Yoga 11S and Lenovo is expecting to release it in June. There will be multiple models, ranging from the starting point of $799, which will get you an Intel Core i3 processor, 4GB of memory, 128GB of solid state storage. There will be models going up to a Core i7, and the Yoga 11S will support up to 8GB of RAM and 256GB SSD. The standard display is an 11.6 inches, 300-nit, 1366 x 768 resolution touchscreen, but there will be an option for a 1600 x 900 resolution display as well.
As with the other Yoga models, the killer feature is the fact that the keyboard can rotate 360 degrees for various setups from traditional laptop, to full touchscreen tablet. Lenovo is claiming 6-hour battery life, but we'll believe that when we see it. The Yoga 11S will be slightly thicker than its Tegra 3 brother, but will still clock in at under 3 pounds.