Leaked slides reveal ARM's new Cortex-A55, Cortex-A75 CPU cores and Mali-G72 GPU (UPDATE)
25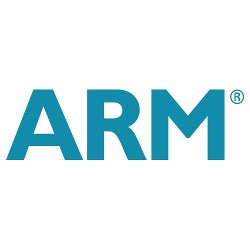 UPDATE:
This is now official as ARM has unveiled the three new products Monday morning. Devices implementing these new designs should be available to consumers some time next year.
Before being taken down, a series of leaked slides posted online revealed some of the latest technology coming from microprocessor designer ARM. Expected to be introduced tomorrow are the premium Cortex-A75 CPU core and the mid-range Cortex-A55 core. The Cortex-A75 core provides 16% to 48% more performance than the Cortex-A73 as measured by benchmark sites. However, the Octane 2.0 site has recently been discontinued, so the high score should have an asterisk next to it.
The Cortex-A55 is designed to be used in mid-range processors, or paired with the Cortex-A75 for Big.LITTLE processors. The latter are comprised of a premium high-end core for power intensive tasks, and a lower-end core to cover general housekeeping. The Cortex-A55 improves performance by 14% to 97% compared to the Cortex-
A53
, and provides 15% improved battery efficiency.
The Cortex-A75 and Cortex-A55 are the first chips designed by ARM to use the company's DynamIQ technology. This allows chipset designers to "mix and match" as many as eight CPU cores in a single cluster. Inside the latter, developers can use combinations such as 1+ 7, 2+6, 3+5, 4+4 or any configuration. Because the CPU cores announced today are built using the firm's new ARMv8.2-A architecture, they cannot be combined with older ARMv8-A based CPUs such as the Cortex-A73 and Cortex-A53.
Also expected to be unveiled tomorrow is the new Mali-G72 graphics chip. The new GPU will offer 40% improved performance over the G-71 GPU with 25% better power efficiency.
ARM does not produce these chips, but provides designs for manufacturers like Samsung, MediaTek and Qualcomm. We should learn more tomorrow, especially when it comes to availability of chips using these new designs.
Leaked slides reveal ARM's new CPU core designs and its latest GPU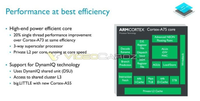 via
Liliputing