Leaked OS for BlackBerry Storm 9530 is 4.7.0.148; will Verizon make it official?
7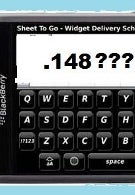 With word circulating that RIM was going to release a Storm 2 earlier than anticipated, it was thought that perhaps the Canadian based manufacturer and Verizon were now going to ignore the initial version of RIM's first touchscreen device and drop any plans to update the still buggy OS that haunts users of the 9530 Storm version. Well, EngadgetMobile was told by a "well-connected" source that only one item caused Big Red to reject the last OS build, which was .141, and that the carrier was already working on another build in the 140's that would fix the problem.
Add to this the fact that OS version 4.7.0.148 for the Storm 9530 was leaked today, and it looks possible that this is the firmware build that the carrier has been working on. Whether or not Verizon makes it an official release is another matter entirely. What is important to the many buyers of the initial Storm model is that it appears that even with a sequel to the handset apparently coming soon, there still is support for the first version of the phone.
If you are interested in downloading .148 on your Storm, click on the source link. Remember that because it is leaked software, loading it on your device can void your warranty, damage your phone, and frustrate you. If you do happen to upgrade the OS to the new build, let us know if you think it is worthy of being released officially. After all, U.S. Storm owners would love to add a virtual QWERTY keyboard in portrait mode, fix most of the bugs in the current OS build, get the updated cut and paste function, and yes, add that green "GO" button to their browser controls.
BlackBerry Storm 9530 Specifications
|
Review
source:
BlackBerryOS Forums
,
EngadgetMobile