Lawsuit forces Motorola to abandon XOOM name, even though it already has
9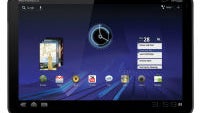 There probably wasn't much likelihood that Motorola was going to revive the XOOM branding, but the chances are completely gone now. Motorola has been engaged in a lawsuit with Xoom Corp, an online payment provider who has been suing Motorola over the trademark on the name Xoom. A new report says that Motorola has settled the lawsuit.
The details are unknown, but word is that Motorola will have to begin phasing out its use of the word. Of course, since Motorola hasn't released a XOOM tablet since December 2011, there doesn't seem much reason to worry about that. Not to mention, the XOOM tablets were basically a bust, and Motorola probably wanted to leave that branding behind anyway.
There have been rumors here and there that Motorola could be working on a new tablet, since it has become a Google company, but our source is saying that those at Motorola don't see tablets as very profitable, so there's no rush.