Latest T-Mobile ad ridicules AT&T network, touts 4G superiority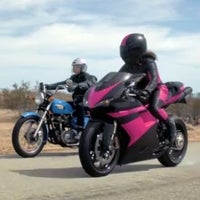 Fancy
Carly's new attitude
? Then you might be interested in checking out the latest T-Mobile commercial, which shamelessly ridicules AT&T and its wireless network. In particular, the 30 second video aims straight for the iPhone 4S (which technically isn't a 4G smartphone, by the way) and attempts to convince you that HSPA+ on a T-Mobile 4G smartphone delivers much higher mobile data speeds. The advertisement is part of T-Mobile's shift in marketing strategy. Carly is not that nice skirt-wearing lady we once knew – instead, she prefers leather jackets and riding her mighty magenta motorcycle now.
Now feel free to watch the ad, which we have embedded below, and in case you missed the previous one,
check it out here
. Of course, do not hesitate to tell us what you think by dropping a comment.