Kingdom Rush: Origins lands on Android and iOS - experience the prequel to the tower defense series
3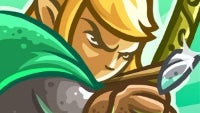 Kingdom Rush: Origins, the third instalment in the hit tower defense game series from Ironhide, is now out for Android and iOS. In Origins, players will "take a trip back to the beginning" of the series' story, commanding an elven army and battling sea serpents, rogue sorcerers, gnoll tribesmen, and other entities you wouldn't like stumbling upon in a dark alleyway. To get them off your back, you have a bunch of new towers, heroes, and spells at your disposal - a "treasure trove of new content", according to Ironhide.
The new elf troops include Elf Archers, Mystic Mages, Stone Druids, and the Elven Infantry. Added enemy types include 30 new baddies, and the hero roster is expanded with nine legends of monster slaying. Over 70 achievements are built inside the game, and you can play in three different modes - Classic, Iron, and Heroic. And if you are the strategic type, an in-game encyclopedia lets you study all those bad guys you will be fighting.
Kingdom Rush: Origins looks like jolly good fun, and it's available for some $4.99 on Android and iOS.
Download Kingdom Rush: Origins on Android | iOS