Kinect and Windows Phone create 3D WALL-E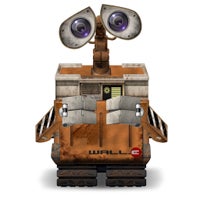 You have to love a good mod when you see one, and this one is a goodie. Programming4fun has mashed up a Windows Phone, Kinect, TV, and a laptop to create a 3D WALL-E.
The Kinect tracks your movements so WALL-E is always looking at you like some creepy painting. The program supports both shutter and anaglyph 3D glasses and features 26 moving parts that can be used to create custom animations.
Once a custom animation is created, it can be stored in a list on a Windows Phone that can be used to trigger WALL-E's reactions. Essentially a child could be interacting with WALL-E while you control him from the mobile device.
Programming4fun says that he originally created this for his daughter, but now hopes that maybe someone could find use for his tech to help kids, possibly in a therapeutic setting with children who have difficulty communicating.
Check out the video below to see 3D WALL-E in action.