Kid uses Apple iPad to record bullying, ends up busted for illegal wiretapping
99+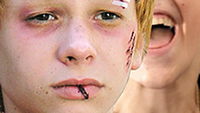 The saying "Man plans, God laughs," never applied so perfectly as to the predicament that befell a high-school sophomore in Pennsylvania. After complaining to his mom about being bullied in school, he decided to obtain some proof. Using the Apple iPad given to him by the school, he planned to make an audio recording of his persecution.
The plan worked like a charm as our hero was able to record sounds of his daily verbal torture. Students were recorded making fun of him, which included some rude comments. While it appeared that there was no physical interaction, one of the bullies pretended to hit the sophomore just to scare him. The mother heard the recording, and as you would expect, she went ballistic. She set up a meeting with the principal, but here is where the story takes a wrong turn.
Yes, the principal called the cops, but not on the bullies. He arranged to have the iPad wielding sophomore arrested for felony wiretapping, explaining that the recording was made in a place where the other students expected privacy.
The kid had his day in court, and while the charges were lowered to disorderly conduct, he was found guilty by District Judge Maureen McGraw-Desmet. The bullies? They got off scot free and were never punished. The kid's attorney says that he is appealing the verdict.
source:
Ubergizmo