Jesse Jackson Jr. blames iPads for American unemployment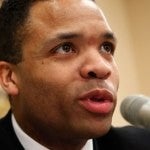 Apple has grown accustomed to the limelight, but that comes with an undue amount of negative attention. For example, while many companies'
manufacturers
probably have health and safety violations, we only seem to hear about Apple's. But Apple's critics are starting to reach.
Rep. Jesse Jackson Jr. (D-Ill.) is partially blaming the Apple iPad for the current 9% unemployment rate in the U.S.
Jackson suggested that the iPad is "probably responsible for eliminating thousands of jobs." Only weeks ago, Jackson stood before the House and supported giving an iPad to every student in America. That's quite the change of heart.
Jackson then lamented the loss of paper publishing companies: "Chicago State University in my congressional district, in freshman class, they're not being given textbooks any longer. They're all being given iPads as they enter school." When you merely read that statement, it sounds like a positive thing. But Jackson is concerned for the loss of jobs at paper publishers.
At the heart of his argument, Jackson was lamenting outsourcing, and its relationship to the unemployment rate. But his arguments seemed to only criticize the technology, as if the wireless industry is somehow tearing apart a sacred publishing tradition. Congratulations,
Apple
. You have been criticized for doing your job too well.
source:
Real Clear Politics
via
PCMag