Infographic gives us all the stats you'd ever want to see about smartphones
10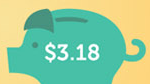 A new infographic from Glow New Media reveals some interesting stats such as the
1.4 billion smartphones
that will be sold globally this year on a planet with a total population of 7 billion. According to the infographic, mobile internet use rises 66% each year. That explains why the carriers are complaining about clogged pipes. The growth of mobile apps has been amazing. From 3000 apps available in 2008, the number rose to 100,000 in 2009. In 2010 the figure was 440,000 and now it is 775,000. 72% of the apps on Google Play Store are free while 56% on the Apple App Store are gratis. The average price of a paid app on Google Play is $3.06 vs. $3.18 for the App Store.
Some stats that focus on U.K. smartphone behavior show that 53% of those 17-24 years old text and drive at the same time. While 24% drive and use social media at the same time, 21% apply makeup or shave while driving. And now the stats that we're sure you were waiting for. During Q1 in the U.K., the top selling smartphone was the
Apple iPhone 5
with a 15% market share followed by the 11.4% belonging to the
Samsung Galaxy S III
. The
Apple iPhone 4S
controlled 7.5% of the U.K. smartphone market from January through March followed by the
Samsung Galaxy S III mini
(5.7%), the
Samsung Galaxy Ace
(5.4%),
Apple iPhone 4
(4.9%),
Google Nexus 4
(3.6%) and the
BlackBerry Curve 9320
(2%).
Check out the entire infographic below!
source:
GlowNewMedia
via
IntoMobile