'Hungry Shark World' eats the charts with 10 million Android and iOS gamers playing a week post launch
12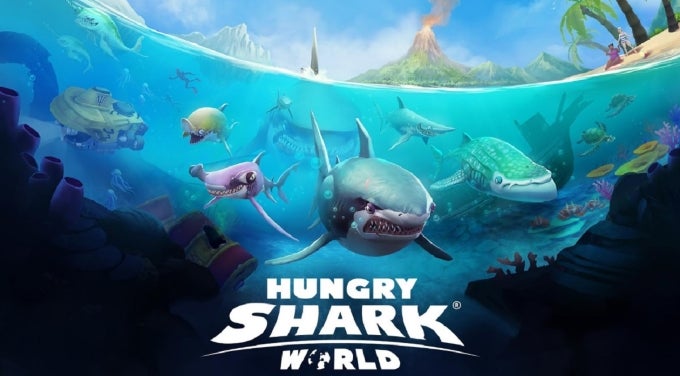 Just six days after Ubisoft finally published the long-awaited Hungry Shark World, the game is already a smashing success with over 10 million downloads worldwide. The all-you-can eat sequel to Hungry Shark Evolution emerged on the top Free Charts hours afters its release, and it probably won't be long before the game series becomes a full-blown cultural phenomenon like Angry Birds. Its creators from Ubisoft-owned studio Future Games of London have put some serious financial and talent resources behind its production, which partly explains how the game has managed to stand out in the vast ocean of free to play titles.
It's got excellent graphics and a sizable variety of content. There are 17 shark species in 7 size tiers to play with inside three free-roaming worlds – the Pacific Island, Arctic Ocean, and Arabian Sea. Each has a surprise spot or two that no discerning shark would want to find itself in. For example, the Arctic Ocean is home to a secret military base with a heavily guarded testing facility. It's up to you to find out what lurks in there!
You can be a shark with a freakin' lazer beam attached to its head infiltrating a secret military stronghold! What's not to like?!
Hungry Shark Worled will also keep you busy with 20 different mission types and hundreds of things you can potentially eat – that's mostly whales, submarines and unfortunate locals, among other edibles in the water. There's also a collection of accessories to trick out your teethy pet – for, as Ubisoft cunningly points out, "no shark can be complete without headphones, umbrella, and a freakin' laser beam!" We concur.
The publisher promises to keep Hungry Shark World up to date by adding new features, content, and challenges down the road. Although the game is a free-to-play title, Ubisoft is keen on monetizing it with assorted in-app purchases. You can buy virtual currencies like gems and gold to spend on upgrades and accessories. These currencies can be collected in-game as well, although this path, predictably, takes much much longer.
If you aren't among the 10 million plus gamers navigating the shark towards its prey, you can join the hilariously gruesome fun by following the links below. Hungry Shark World requires an Android device running at least version 4.2, or a newer Apple device to run.