Huawei will showcase a new phablet, the Mate S, on September 2, before the IFA conference in Berlin
5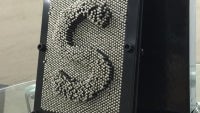 Huawei will showcase a new phablet, the Mate S, on September 2, before the IFA conference in Berlin
It looks like Huawei will be holding the Huawei Mate 8 for sometime next year, but this doesn't stop the giant Chinese firm from releasing the interim Huawei Mate S. And that will happen on September 2, two days prior to the IFA conference in Berlin, which will be held between September 4 and 9.
We can finally put an end to speculation and confirm that the phablet will appear at the show, as Huawei has sent media invitations revealing the device's name. It doesn't get more official than that, but in addition to the invite, we've also
seen the Mate S pass through China's TENAA committee for approval
, which makes matters all the more reassuring.
Specs-wise, the Huawei Mate S may or may not feature a 5.7-inch, 1080p resolution screen, and could be powered by a Kirin 935 octa-core processor with 3GB of RAM. By the way, the purported Mate S photos that we're checking out seem to depict a 6-inch display, but the field is open for speculations. Meanwhile, a 13MP camera driven by a Sony IMX 278 sensor is expected to be present, along with a fingerprint scanner.
At a glance, the phablet is shaping up to be a slightly more palatable version of the Mate 7, whose huge 6-inch screen may be limiting its appeal to the biggest phablet enthusiasts. A 5.7-inch screen will make the device seem a little less ominous on store shelves. If Huawei manages to retain the Mate 7's qualities, namely the sturdy metal build and the huge battery pack, the Mate S will certainly be a device worthy of interest. We'll tell you more about it during our extensive coverage of this year's IFA event.