Huawei announces the 5.5-inch Ascend G7 with 64-bit processor, slim bezels, and metal build
12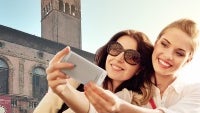 Huawei announced the Huawei Ascend G7 smartphone - an upper mid-range model that seems very interesting and appealing. For starters, the device has a big 5.5-inch 720p INCELL display. INCELL is a technology for combining a digitizer, touch input, and LCD screen into a single layer, allowing for an exceptionally thin display assembly. Thanks to this, the Ascend G7 is only 0.29 inches (7.6mm) thick - almost a 0.03 inch (1mm) difference with the Samsung Galaxy Note 4, and it has the same slim bezels. The build is impeccable, too - it's all metal here, folks. Okay, there are two plastic covers on the back for better reception. We can deal with that, can't we?
The internals don't disappoint, either - a 64-bit quad-core CortexA53 1.2GHz processor runs the show, together with 2GB of RAM. The processor is 4G LTE-enabled, and the phone has 16GB of non-expandable storage.
The Ascend G7's main camera is a 13MP BSI unit with f2.0 aperture size, auto-focus (duh!), and unspecified Flash. Its camera software includes a quick capture function, front-facing panorama, facian enhancements, and Audio Note. The front camera is a five-megapixel fixed-focus snapper. Both cameras have 88 degree-wide lens and blue-glass filters.
The G7's 3000mAh non-removable battery is rated to be good enough for 600 hours on standby. Huawei has implemented battery saving technologies such as a display that adapts its brightness level, and a smart energy-saving feature that lets the phone operate 24 hours with just 10% charge.
Huawei's latest smartphones, the Mate 7 and G7, seem like excellent devices and we can't wait for the opportunity to tell you more about them. The pricing in Europe for the G7 is a very attractive 299 EUR.