How to use Google's Handwriting Input keyboard on your Android phone or tablet
12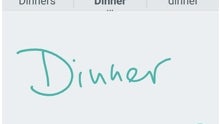 If, for whatever reason, you want to use handwriting instead of a standard keyboard on your Android device, you don't necessarily have to own a handset or tablet with a stylus pen (like Samsung's Galaxy Notes). All you need to do is to download a handwriting app. The easiest to use among these apps is Google's Handwriting Input, which you can get for free via Google Play Store - check out the link at the end of this article.
After you download the Google Handwriting Input app, you have to open it, enable it, and you're done: you'll now be able to use handwriting on your device wherever a keyboard is required: in your Messaging app, in Gmail, in your browser, on Facebook, and so on. To switch from your normal keyboard to Google's Handwriting Input keyboard, you just need to long press your keyboard's space bar, and select the new input method. The Handwriting keyboard supports many languages from around the world (82 of them, to be precise), and is pretty good at recognizing words, even if your handwriting is messy.
Of course, sometimes, using handwriting may not be as fast as you'd wish. Luckily, you can easily switch back to your normal keyboard (or to any other keyboard that you may have installed on your device) by long pressing the space bar.
Google's Handwriting Input app should work on any device running Android 4.0.3 or later. The screenshots included below were taken on a Nexus 5, so things may look different on your device.
download:
Google Handwriting Input