How to get great customer service during your next visit to the Apple Store
27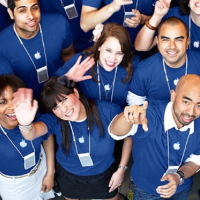 According to an Apple Store employee who will not give up his name, there are things you can do next time you visit one of Apple's brick and mortar locations that will help you get what you need, while obtaining the best customer service that Apple has to offer. The employee gives us some inside tips, which we are passing along to you.
When you first walk in the store, look for the person holding an iPad. This person is the one to see about hooking up with a specialist. By making a beeline from the door to the person holding the tablet, you are bound to save time. Now keep one important thing in mind. If you are buying in bulk for a business, ask to speak to the employee who handles corporate sales. After all, even Apple provides volume discounts for bulk purchases.
This Apple Store employee also suggests that an appointment be made, even if you are coming in to have a device serviced. In other words, if your iPhone hasn't turned on for a couple of weeks, call for an appointment first. If it just stopped working right now, yes, that would call for a visit to the Apple Store without making an appointment.
And the final words of wisdom from our anonymous Apple Store employee is that you need to keep a cool head if there is a dispute in the store. He says that you need to keep in mind that the employee that you feel like putting an NYPD chokehold on, does not have the final say when it comes to an issue involving merchandise. So why waste your energy trying to force an Apple Store employee to do something that he can't do anyway? You end up looking like a jerk, which only hurts your standing with the other employees.
Perhaps by following these suggestions, you will end up with an enjoyable stress free trip to the Apple Store. With the holiday shopping season soon to begin, surely you can use a relaxing shopping experience.
source:
Reddit
via
BGR