Here's a gallery of graphic broken Apple Watch photos because reality isn't kind to electronics
11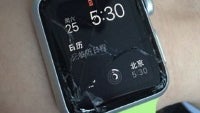 As technology defies nature to make our lives easier, nature strikes back with the screen-shattering, surface-damaging effects of gravity and impact. Unfortunately, despite Apple's efforts to whip the Apple Watch into military-grade shape, the device turned out as delicate as all mobile devices. Mere days after it got to users' hands, we already have a gallery of horrors showing broken screens and scratched cases.
Although the $350 Apple Watch Sport sports a hardened glass layer that's difficult to scratch unless you really dig into it, the material won't survive an impact from drops or being run over.
Consumer Reports' testing is one thing
, but we get to learn that sapphire isn't the screen protection panacea either, as a regular used managed what CR couldn't - scratch the sapphire screen of the Milanese Loop Apple Watch. Hopefully, sapphire is strong enough to withstand impact, unlike tempered glass.
Oh, and since we mentioned tempered glass, you might wonder whether
those screen protectors made of the stuff
are any good, since they obviously break and all. Well, they do break, but they are designed to defend the display glass underneath by shattering to absorb the impact which would have went into the display otherwise. Tempered glass also contains a thin plastic layer, which holds the pieces of broken glass together so they don't do further damage. With this in mind, screen protectors for the Apple Watch by established brands are already on sale, so you're better off buying one.
If you are sensitive to broken pieces of technology, skip the gallery. Otherwise, check out the gory photos below and if you have an Apple Watch, treat it right.
via
Mashable