Here's OnePlus' cheeky iPhone 6/6s case in the flesh (hands-on)
8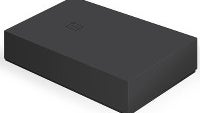 Coming on the heels of what is now a rather long history of PR stunts, this move is no different and is obviously intended to raise the profile of OnePlus helped by a healthy dose of controversy. Whatever the motive, the so-called OnePlus Sandstone Case features — you guessed it — the company's now signature sandstone-like exterior, and so is quite grippy, but also rather rough in comparison with last year's iteration available with the OnePlus One.
In typical OnePlus style, the $19.99 case comes packed in a bespoke (for an accessory), black carton box that also contains a plastic scratch card with an invite to purchase the $249.99 (US) / €269 (EU)
OnePlus X
. To add some excitement to the process, OnePlus promises that a few of these will also give lucky folk the opportunity to get one of the limited edition Ceramic OnePlus X's, while others still might get a free (standard) unit altogether. Sadly, ours was just a normal invite.
Unwilling to settle for just renders and curious to see how the case looks in the flesh? Here are some hands-on photos to help you decide: