Hands-on with the Samsung Continuum and Motorola DROID Pro
5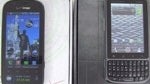 We love trying out new phones here, and today we got the new
Samsung Continuum i400
and
Motorola DROID Pro XT610
. The
Samsung Continuum
is what Samsung calls a "Galaxy S" phone, and is released only two months after the
Samsung Fascinate
. Both the Continuum and Fascinate have an impressive
Super AMOLED display with WVGA resolution
, but the one on the Continuum is a bit smaller at 3.4" but there is also a
1.8" ticker display
at the bottom, which is independent of the main display, for showing the current time and weather, new alerts, social networking updates and RSS feeds, music player controls, and even street turns with VZ Navigator. The Continuum is an all-plastic design and basically looks like a smaller version of the Fascinate, but this also allows the Continuum to fit better in the hand. We placed a few calls on the Continuum and voice quality seems good, but of course we'll test this out further in our full review. We also like that there are
stereo speakers
on the back that provide plenty of volume for ringtones, music playback, and even the speakerphone. The Continuum runs on a
1GHz Hummingbird processor
and is currently using Android 2.1 with the Samsung TouchWiz 3 user interface; again something shared with the Fascinate.
The
Motorola DROID Pro
is mainly design for the international traveler, as it can operate on
CDMA
(in the US)
and GSM
(overseas) networks with the included SIM card, but Verizon says it will not work with other SIM cards, making it locked-down. The design of the DROID Pro looks similar to a BlackBerry, with a 3.1" 480x320 resolution TFT display on the top, and a small
QWERTY keyboard
on the bottom. The user interface is also the same that we saw with the
Motorola DROID 2
,
DROID 2 Global
, and the
DROID X
, so there's nothing unexpected here. We placed a few tests calls and the voice quality on the DROID Pro was good and equivalent to the other DROID phones. The buttons on the QWERTY keyboard are a bit small, compared to the larger keyboards on the DROID 2 and DROID 2 Global, so large hands may have a problem with that. The DROID Pro runs on a
1GHz OMAP processor
and is using
Android 2.2
with the Motorola UI.
Hands-on video with the Samsung Continuum and Motorola DROID Pro:
Be sure to check back for our upcoming full review of the Samsung Continuum and Motorola DROID Pro!