HTC One X and HTC One (M8) camera lens comparison proves camera bumps save lenses' lives
35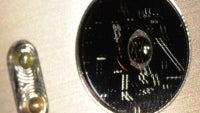 Reddit user and apparent HTC fan MSinedmade an interesting comparison while busting a myth along the way. Heposted two photos comparing how the camera lenses of his almost 2year-old HTC One X and two-weeks old HTC One (M8) are holding upafter this time. The result, as you will see for yourself, issurprising.
Smartphones that have their camera lensflush with the body were (unofficially) considered to do a better jobat protecting the glass from scratches than those with "camerabumps" protruding from their backs. That's because in the lattercase, the smartphone should lay directly on the lens itself and theglass will get scratched easier, right? Um, no. The differencebetween the two HTC flagships' camera lenses is drastic, and you'dnever guess which one's in better shape. It's the veteran One X's! Onthe other hand, the brand-new One M8's lens is scratched severely.
The Redditor claims that he didn'ttreat the two phones differently, and admits that his usage habitsare not a prime example of smartphone care-keeping. But it's not likehe did anything especially irresponsible - it's just that MSined"isn't a case person". He also noted that the One X's photoclearly shows that it was the plastic ring below the lens that tookthe damage, instead of the lens, as evident by the scratch marks anddiscoloration.
While "camera bumps" are nota desirable aesthetic, it seems they do a much better job ofprotecting the camera than flush lens. The comparison also shows thatflush lens and non-scratchproof glass is a bad, bad combination.Unfortunately, installing a camera protector isn't an option forthose desiring the purest photo quality, while other smartphonevendors are yet to follow Apple's example of securing the lens with apiece of tough sapphire crystal in the iPhone 5 and 5S.
source: Reddit