HTC Desire EYE hands-on
10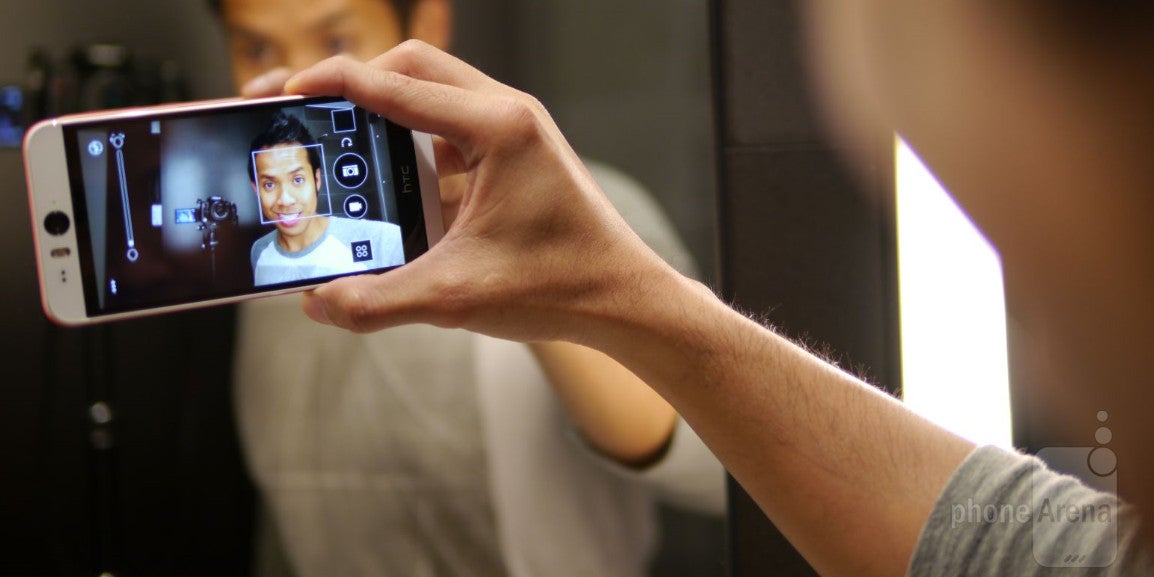 Taking selfies with our smartphones has become a part of life, to the point where its popularity has catapulted the word "selfie" to be officially accepted into the Oxford dictionary. HTC is no stranger when it comes to outfitting its handsets with robust cameras – both the front and rear, to give shutterbugs something worthy to use. Rising in popularity, HTC is especially accommodating the trend with its latest smartphone in the HTC Desire EYE, seeing that it's outfitted with not only a formidable 13-megapixel rear camera, but also another 13-megapixel front-facing camera for all our selfie snapping needs.
Design
One can argue that the HTC Desire EYE has a lot to live up to after the HTC One M8, but surprisingly enough, it's a totally different looking phone that doesn't necessarily follow the premium design language of its sibling. Rather, the Desire Eye has a humbler approach, much like other recent Desire smartphones – like the HTC Desire 816 and 510.
Going with a plastic body, one that features a useful IPX7 certification for water resistance, it has a subtle soft touch matte finish that makes it easy to grip. However, for a handset bearing a 5.2-inch display, it's substantially larger in overall size than other devices with similarly sized screens. Another attribute that we adore, is the way that the handset boasts uniformly flush surfaces – so that the camera lenses on the phone are not distractingly sticking out like on some other phones. Available in two color options, the handset's design is accented thanks to the contrasting colored bezel hugging the sides of the phone.
For the intended target audience, the design of the HTC Desire EYE is fun and lively, to match those individuals who are big into taking selfies.
Display
As much as we would've loved to see a quad-HD display of some sort in this, HTC has opted to bless the Desire Eye with a contemporary 5.2-inch 1080 x 1920 LCD display – similar to what we already have in the M8 and E8. For something in the Desire family, we greatly appreciate the high-res panel, which has all of the fitting qualities we've come to expect from this type of display technology. It's bright, visible outdoors with the sun present, offers crisp details, exhibits a very natural color reproduction, and viewing angles are pretty decent with it.
Interface
With the pre-production model we're checking out, it's running HTC Sense 6.0 on top of Android 4.4.4 KitKat – so it's essentially the same as other recent HTC smartphones. Visually and functionally, there's nothing out of the ordinary, as it features the same very clean and modern looking interface that we've come to enjoy and love. Interestingly, though, they've focused their attention on the camera app, since it offers a few new functions we'll talk about a bit later on.
Processor and Memory
True to being a high-end thing that's ready to compete against the masses, the HTC Desire Eye is packing along a quad-core 2.3GHz Qualcomm Snapdragon 801 SoC coupled with 2 GB of RAM – a fitting piece of silicon that powers many of today's flagships. Not surprisingly, it delivers a fair amount of spunk to the handset's performance. Even though we're only spending a short time playing with the pre-production model, we're fairly confident that it can handle some of today's processor intensive operations with barely any fluff.
Boasting a reasonable 16GB of internal storage, it can be supplemented thanks to its microSD card slot. Unlike previous implementations, the adapter that holds the card in place is on a hinge, something that kind of flaps around when it's taken out, but we're told that it's needed due to its water resistance property.
Camera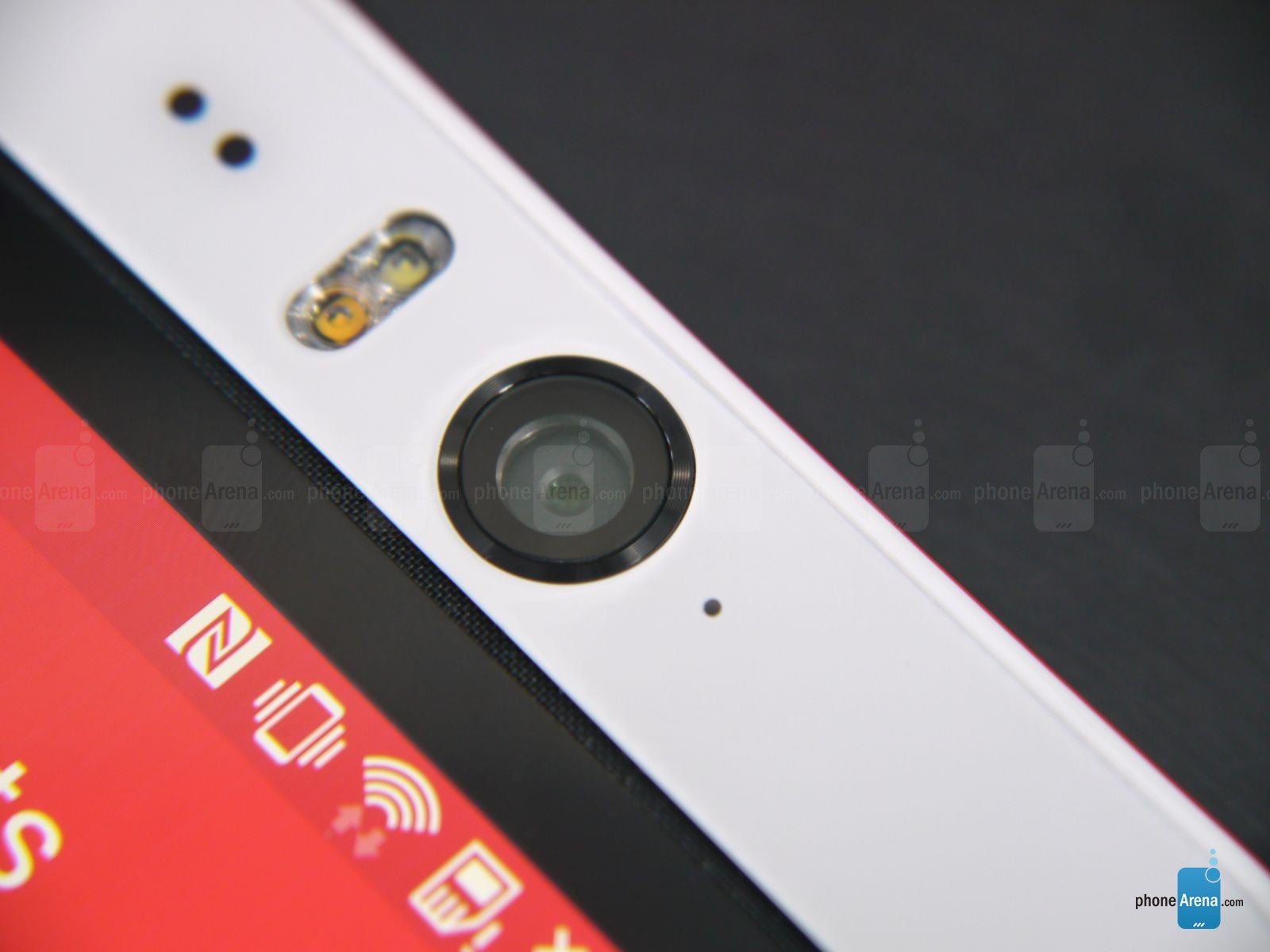 Selfie loving snappers rejoice, the HTC Desire EYE is all about meeting your demands with its front and rear camera. In the back, it boasts a very respectable sized 13-megapixel camera that's accompanied with a dual-LED flash, 28mm f/2.0 aperture lens, and BSI. Of course, this decision to outfit it with a beefy camera instead of an Ultrapixel one is something we take to heart, as the Ultrapixel camera of the M8 can't compete with its rivals when it comes to detail. Not one to be forgotten, the Desire EYE is all about taking selfies – so we're astounded to find a 13-megapixel front-facing camera, which features BSI, 28mm wide-angle f/2.2 aperture lens, 1080p video recording, and a dual-LED flash.
We applaud HTC for its efforts in keeping the camera lenses flush, so that neither one is sticking out absurdly. At the same time, it tells us that HTC is committed to catering to the needs of selfie-loving folks. In doing that, they've tweaked the camera app here with the Desire EYE. Visually, it looks identical to other Sense 6.0 running smartphones, but there are several new shooting modes available here. Specifically, they include photo booth, Selfie, Crop-Me-In, and Split Capture modes.
With Crop-Me-In, it allows us to take two separate shots, one with the front and one with the rear, where the phone automatically crops the image from the front camera, so it's transposed over the image captured by the rear. Depending on the situation, it can make for some hilarious looking compositions. As for the Split Capture mode, it's similar to how other companies combine the shots taken by the front and rear cameras – so this isn't a particularly new concept. The modes are supported with video recording too, but to be frank, it's not as versatile when compared to what we see from Samsung's implementation.
For now, we'll be a bit reserved with our judgment regarding the performance of its cameras, but based on the samples we're able to snap and view on a computer, some might be surprised by the results. Overall, it definitely captures some amazing looking photos with its cameras – just as long as lighting is plentiful. However, under low light, we begin to see some distracting levels of noise that softens its look.
Expectations
Something of a rare occurrence, the HTC Desire EYE is actually coming here to the US – in addition to the markets overseas where the Desire line has its roots in. Although pricing hasn't been officially mentioned, we're told that the Desire Eye will feature a price point that's a little bit higher than the HTC One E8. Selfies as a whole have this connotation of being grainy shots that are meant to be more impulsive, in comparison to the calculated compositions that we tend to get with regular photos. Knowing that, it'll be interesting to see how the HTC Desire EYE will be able to handle all of the demands of individuals who take great pride in snapping selfies of themselves. Will a 13-megapixel front camera make such a significant difference?