Gresso unveiling iPhone 4 for Him - $3000, and for Her - $3500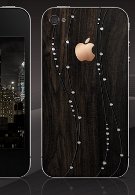 Have you been staring recently at that mahogany area between the stick shift and the dashboard of your Benz, and feeling deep inside that something's missing? No? Well then - busted your head over how to get Miley Cyrus go out with you?
Stop worrying, Gresso has you covered! The luxury cell phone manufacturer (or, should we say, artisan) announced two very special
iPhone 4
handsets just for those situations. The $3000 "iPhone 4 for man" will sit nicely on said area in the Benz with its 200-year-old African Blackwood case and Apple logo on the back, made of 18-karat gold. And what starlet could resist the "iPhone for lady", which adds back panel engravings and Swarovski crystals (now, that's original, ain't it) to the mix.
Financial crisis brought on by an obsessed with consumerism society? Gresso has thought of that, too, as these iPhone 4s inside the glitz and glamor are, oddly enough, of the cheaper 16GB variety. Plus, they are almost a bargain, considering some other offerings (nudge, wink, Vertu) that cost five times that, and are still mid-range as phones.
We are not really worried that African Blackwood plants are cursing at Steve Jobs now, as we can't really imagine the Gresso gadget jewelery flying off the shelves when they come as part of the December 2010 collection. And who said the iPhone is not a status symbol?
Apple iPhone 4 Specifications
|
Review
source:
RedmondPie