Grab Sony's 128GB microSD card for only $33.49 from Amazon
27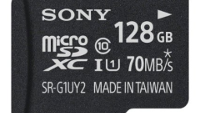 If you need additional storage for your handset, and you have a 128GB capacity or higher microSD slot on your phone, it won't cost you as much as you might think for a 128GB microSD card. For a limited time, Amazon is offering the Sony Class 10 UHS-1 Micro SDXC memory card for just $33.49. That is a healthy 39% (or $21.50) discount from the usual price of $54.99.
The Sony microSD card features a transfer speed of 70MB/sec, and the File Rescue downloadable software will help you recover damaged or deleted content. If you don't need so much storage, you can buy a 64GB card ($23.59), a 32GB card ($8.99), a 16GB card ($8.33) or even one with just 8GB of capacity ($5.99). Android phones running on Marshmallow can use a microSD card as an extension of the internal storage on the phone. Thus, you will be able to count on the card to store your Android apps.
If you are interested in ordering any of the Sony microSD cards from Amazon, click on the sourcelink. And the card will include an adapter for use on SDHC/SDXC models. You're not going to see a price like this for a 128GB microSD card that often, so if you need to save a ton of media, content or apps on your handset, it would behoove you to take advantage of this deal now.
source:
Amazon