Google releases Text-to-Speech into the Play Store
7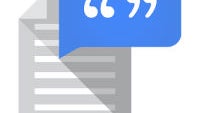 Google has a long history of decoupling apps from its version of Android. Sometimes, this is done to offer the pure Google option for users who have heavily skinned software on their devices; but, the majority of the time it is done simply as a way to allow Google to push out updates faster than if the app were connected to the Android system.
The newest app to get the decoupling treatment is Google's Text-to-Speech software, which is used in various ways throughout Android. Google Text-to-Speech is used in Google Books to read aloud, in Google Translate so you can hear the pronunciation of words, accessibility tools for blind users, and more. Of course, the app isn't just being released into Google Play just to release it, it has also been updated with Korean language support.
The Google Text-to-Speech app is available now for devices running Android 4.0.3 or higher.